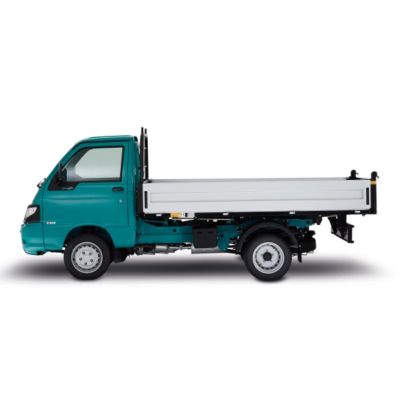 Up to 1.120 Kg of load capacity and a superlative manoeuvrability that makes it ideal for all city transport needs: Porter Maxxi combines easy handling and drivability with the load capacity of a much heavier, bulkier work vehicle. The vehicle is available in 4 different configurations and may be outfitted in a huge range of special equipment variants: all versions share the same reinforced chassis and dual rear wheels for absolute stability even when fully loaded. Furthermore, the fixed bed and tipper bed variants feature a large, all-flat deck equipped with 40 cm high alloy dropsides and tailboard, with ergonomic retractable handles. The Porter Maxxi range now boasts two new engines developed through Piaggio's ongoing technological research - the D120 diesel and MultiTech petrol. The latter engine also serves as the basis for the two Piaggio EcoSolution low environmental impact solutions range: EcoPower (bifuel petrol/LPG) and GreenPower (bifuel petrol/CNG).
UNRIVALLED MANOEUVRABILITY
With its compact dimensions making it the perfect choice for city traffic, Porter Maxxi is more agile and manoeuvrable than any other light commercial vehicle available today. The Porter Maxxi range's incredible turning radius - just 4,6 metres compared with a category average of 5,3 metres – is exploited to the full by the innovative EPS (Electronic Power Steering) system, which makes every parking manoeuvre extremely simple and quick and contributes even further to comfort and safety. The limited slip differential comes into play in tricky driving situations, transferring torque to the wheel with more grip. Incredible manoeuvrability and a narrow track mean that Porter Maxxi can easily reach historical city centres, narrow alleys and places that are often inaccessible to other commercial vehicles. Quick, uncomplicated transport: Porter Maxxi is the ideal companion for your commercial transport needs!
ENVIRONMENT FRIENDLY POWERTRAINS
Ongoing Piaggio research has developed a range of eco-compatible powertrain choices for the Porter Maxxi. This offers an indisputable advantage in the city and a competitive edge for a commercial vehicle, permitting - where possible - unrestricted access even with traffic restrictions and antipollution measures in place in historical city centres. In addition to the conventional Euro 5 compliant diesel and petrol engines, Porter Maxxi is also offered with a choice of EcoSolution low environmental impact powertrains: EcoPower (bifuel petrol/LPG) and GreenPower (bifuel petrol/CNG).